After releasing 2016's Moonlight, director Barry Jenkins has returned with his latest film, If Beale Street Could Talk, which is based on James Baldwin's 1974 novel of the same name. The runner-up for the Toronto International Film Festival's People Choice Award, the Annapurna Pictures distributed film stars Kiki Layne and Stephan James, and is a story about how the power of love conquers all, no matter how hard things can get. The story centers around Clementine "Tish" Rivers (Kiki Layne), a young African-American woman who, with the support of her family, attempts to clear the name of her boyfriend Alonzo "Fonny" Hunt (Stephan James) who has been falsely accused of rape before the birth of their child. This is going to be a longer review, so let's take this journey down Beale Street. Spoilers after the trailer.
Disclaimer: I haven't read James Baldwin's novel If Beale Street Could Talk….. yet.
If Beale Street Could Talk starts off strong. The first 30 minutes of the movie, for me, were magnetizing, and among the best of any film that was released in the year of two thousand and eighteen. Here's a breakdown of the things that made it an impactful and memorable way to begin a film. Tish narrates in the beginning about her relationship with Fonny, and sets up the movie by letting the audience know he's currently locked up for a rape that he did not commit. She visits Fonny in jail to tell him that she's pregnant and that she's going to get him out of jail so he can see the birth of his child. Tish has a powerful line in which she narrates, "I hope that nobody has to look at anybody they love through glass," as the camera pans to her talking to Fonny through the phone in the jail visitation room. Fonny is surprised but excited to hear the news considering his current situation, and Tish lets him know she wanted to tell him before telling anyone else. The director chooses to use close-ups, which rely on the actors to stare into the camera and use facial expressions to convey different moods. It's a romantic scene and it establishes the love these two have with each other within the first 10 minutes of the film.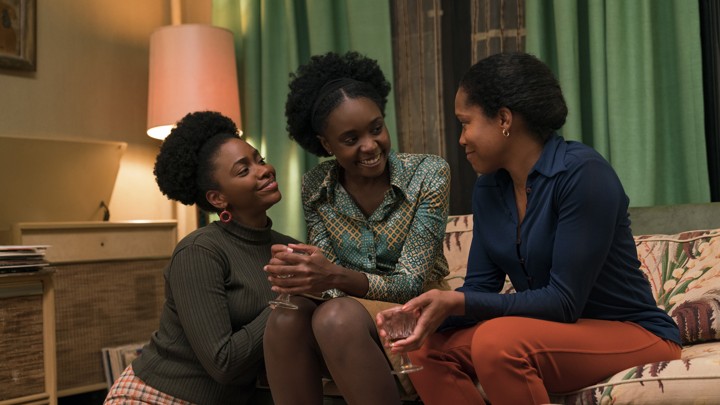 Things become more interesting when we are introduced to their families and how they react upon hearing the news of Tish's pregnancy. Sharon Rivers (Reginia King) is Tish's mother and she's the first person to hear the news. The way Barry Jenkins chose to shoot the scene was a crafty misdirection. Tish is sitting on a light orange couch with green curtains in the background, and she's wearing a green blouse with a gold skirt and is the sole focus of the shot, as she's timidly telling her mother that she's pregnant. Meanwhile, her mother is dressed in a dark blue shirt with orange pants on the other side of the room, but she's in the shadows and this gives off a vibe that she's evil, wicked or is going to be angry that her daughter has been impregnated by a man who is currently incarcerated. Surprisingly, Sharon Rivers is happy and excited to hear the news that she's going to have a grandchild.

During dinner the pair tell Tish's father and sister the good news, and the family celebrates. The color scheme of gold, orange and green from earlier is still prominent in every shot and gives the scene a unique look. Tish's sister Ernestine Rivers (Teyonnah Parris) is wearing green and orange, and her father, Joseph Rivers (Colman Domingo) is wearing a muddy green with gray to perfect the patina. When Tish hugs her father, his side of the room is brighter and it gives the impression that brighter days are ahead for this family.
After the two embrace, Joseph wants to break the good news to his coworker, who happens to be Fonny's father, so the family invites the Hunt family over to dinner and for me, this is where the movie peaks. The Hunts, for a better word,  are bougie, uppity, saditty… well the women of the family are. When Frank Hunt (Michael Beach) finds out that he's about to have a grandchild he's ready to celebrate, he even tells Joseph Rivers that they're going to go out and get drunk tonight. On the other hand, Mrs. Hunt (Aunjanue Ellis) is not impressed. She blames Tish for her son being incarcerated. She thinks Tish isn't good enough for Fonny and she always knew that Tish was trouble. Mrs. Hunt is a Christian woman and she brings all types of scorn and judgment onto Trish for having a child out of wedlock. The scorn from her daughters, Adrienne Hunt (Ebony Obsidian) and Sheila Hunt (Dominique Thorne), is just as strong. This conflict sets up an amazing scene of dialogue between the two wicked sisters and Tish's sister Ernestine. Ernestine tells Adrienne and Sheila that she wants to rip the Adam's Apple out of their throats. Mrs. Hunt takes offense and tells the Rivers family they're going to hell for bringing this bastard child into the world, as Barry Jenkins focuses the camera on her face, out of nowhere Frank slaps the taste out of her mouth. I do not condone this behavior, yet the way this is filmed it lets the audience know the stakes are high and it gives you a deep dive into the relationship of the two families, and how they're the complete opposite of Fonny and Tish. After the slap, Sharon Rivers tells Mrs. Hunt that that's her grandchild she's talking about and both of the families are going to do their best to raise the child. 30 minutes into the film and there's effective storytelling, engaging dialogue and a plethora of spectacular shots.
Unfortunately over the next 87 minutes the film flattens out. A large reason for this is Kiki Layne's inexperience when delivering the material she's given. She plays the leading lady but she comes off as flat for most of the movie. It's her first major role in a motion picture and it really shows, because she's not giving her character any kind of emotion. There are times where she does a serviceable job, but for most of the film her performance isn't up to par with the rest of the cast. In contrast, her co-star Stephan James does a phenomenal job with the time that he's given on-screen. There's an effective moment in the film where Fonny is planning a future with Tish, and he shows her how they're going to decorate and model their future apartment together. It's romantic, innocent and displays that the two have hope before the drastic event changes the course of their relationship. When he's confronted at a grocery store by Officer Bell (Ed Skrein) the film builds up the tension again in an effective, yet gut-wrenching way. Even when patrons at the store stick up for Fonny, it shows how much love the rest of the city has for him.
Outside of the two main characters, the smaller characters do a superb job of bringing emotion to the big screen. Outside the first 30 minutes we did not spend much time with the rest of the Rivers and Hunt families. I do wish that we had, because of how productive the film's opening act was.  Around the second act there's a scene between Frank Hunt and Joseph Rivers, where the two fathers are at a bar discussing how they're going to come up with ways to make money to ensure that Fonny is free when their grandson, Fonny's son, is born. With the small amount of screen time that Regina King has, she shines through as Sharon Rivers. There's a noteworthy scene between her and Fonny's accuser Victoria Rogers (Emily Rios), where Sharon confronts her, but Victoria is too traumatized from being raped that she  doesn't care if Fonny is innocent or not, she just wants a black man to pay for this. Victoria tells Sharon that Officer Bell told her to pick out Fonny in a lineup just so he could get his revenge from the grocery store incident.
One show stealing scene came from Brian Tyree Henry as Daniel Carty. Henry is in the film for at most 15 minutes, if that long, but his character adds to the weight of an already heavy story. Daniel Carty is a recent parolee and a close friend of Fonny. Before Fonny is locked up for a crime that he didn't commit, Daniel tells Fonny what life was like in the slammer. If you're familiar with Henry's work on Atlanta then you'll know he's one of the best actors when it comes to giving his characters nuances. While Daniel Carty is recollecting his memories from being in jail, you can see the fear in his eyes as those memories are haunting him. Barry Jenkins uses close-ups and tight shots to maximize the effectiveness of storytelling.
Jf Beale Street Can Talk is a film where the parts did not make a great whole. There are powerful moments to like that are scattered throughout the film. However, as a whole the movie felt uneven. Barry Jenkins uses close-ups and tight shots, but they do not always pay off, and when they don't it brings down the film. The veterans actors in the film brought their A-game and gave the movie some interesting personality worth seeing. Regina King, Stephan James, Brian Tyree Henry, Michael Beach, Aunjanue Ellis, Colman Domingo and Emily Rios all deserve recognition for what they brought to this film. If you saw Moonlight and enjoyed it then I would recommend checking this one out, for me, If Beale Street Could Talk was more enjoyable of the two. It's a different spin on romance where the couple breaks up because of reasons out of their control, which is refreshing. James Baldwin's novel was written over four decades ago, and its themes still relate today. If this was playing at a theater near you, then give it a viewing, my biggest issue is that the film didn't finish as strong as it started. Some moments of the movie felt like a brisk jog down Beale Street, yet other moments felt like a slow walk instead of one smooth constant power walk.
Fin.
RATING
[Fresh Horchata]
[Fuego]
[Bueno]
[a si a si]
[Basura]
[All Mames Wey]
If Beale Street Could Talk was released in theaters on December 14, 2018.
Thank you for reading my review be sure to follow on the socials below:
Twitter: @PeliculasCosas
Instagram: @peliculasandcosas
Letterboxd: @PeliculasCosas