The feeling of being an outcast is something most people can relate to. Most families have a black sheep – that one family member who is different from everyone else – yet a sense of normalcy is something everyone wants to capture. Director-writer Laura Steinel's directorial debut, Family, is a comedy that thoughtfully examines the idea of being a black sheep while exploring one of the least represented American subcultures in film. The plot follows a career-driven Kate Stone (Taylor Schilling) as she has to babysit her 13 year old  awkward niece Maddie Stone (Bryn Vale). Family also stars Brian Tyree Henry, Allison Tolman, Fabrizio Guido, Kate McKinnon, Matt Walsh, Jessie Ennis, Eric Edelstein and Peter Horton. Spoilers after the trailer.
A Similar Pairing
Maddie Stone is the weird kid at her school, she's bullied by the other girls, her parents shelter her and she's going through the typical teenage angst of trying to figure herself out, whereas her aunt Kate Stone is loathed by her co-workers, she's career oriented to the point that she doesn't talk to her family, and she's completely full of herself. When Maddie's parents have to leave town for an emergency they ask if Kate can watch over here while they're away. This sets up a week of hijinks where the pair try creating  a bond with each other.
Kate has a high ranking position at her job and in every scene that takes place at her workplace she's belittling. all of her co-workers, even her boss isn't safe. There's a funny scene in the beginning where Kate is talking about why pregnancy means you're ruining  your career during a baby shower for one of her coworkers.  This allows the audience to get an idea of her character while weaving it into the story of the film without filling the movie with exposition. To say that Kate lacks social awareness is an understatement to say the least; she gives out terrible advice to her understudy Erin (Jessie Ennis), when it comes to moving up in the company.  Ironically, Kate doesn't listen to anyone else's advice. Maddie's parents give Kate a list of foods that Maddie has reactions to and should not eat but self-absorbed Kate doesn't care about that. She even asks Maddie's parents if she'll die if she eats them and they tell her no, so she bypasses their concerns. This led to Maddie eating chicken parmesan for five nights straight and she ends up having a reaction from eating too much of it.
The relationship between Maddie and Kate is like, if the parenting of Big Daddy met the awkwardness of Eight Grade with the coming of age of Lady Bird and if someone threw the subculture of Juggalo into that mix. This creates a movie that feels familiar yet unique, which director-writer Laura Steinel should be applauded for. Once the layers are peeled back, Maddie and Kate are more alike than they appear. Both are outcasts, but one chooses to be whereas the other is forced. Kate can relate to Maddie because when Kate was her age she was weird and awkward, which is something they bonded over.
Whoop Whoop
The theme of outcasts uniting continues once Maddie meets a gas station cashier named Dennis aka Baby Joker (Fabrizio Guido). He introduces her to the Juggalo lifestyle which is something that Kate thinks is weird and warns Maddie to stay away from. This was Guido's first performance and this was a perfect role for him because he has the mannerisms of a Juggalo.
Face paint, taquitos, a stranger in the backyard… there's a lot happening. @TaySchilling stars in FAMILY, now playing! #JoinTheFamily pic.twitter.com/ZUMeiYhzKW

— Family (@familythemov) May 1, 2019
In an interview with Uproxx, Laura Steinel stated that this film took her three years to make and she went to The Gathering of the Juggalos, the official musical festival for Juggalos, to capture footage which adds to the film's authenticity. The scenes at The Gathering were shot tight and Steinel wore a blonde wig to stand in for Schilling and they did a good job at filming this because it's not noticeable in the film. The founders of Juggalos' Insane Clown Posse even made a cameo appearance in the film, which makes this a Juggalo approved film.
It's about that time! @icp stars in FAMILY, now in theaters! #JoinTheFamily pic.twitter.com/1a2ETsqAlV

— Family (@familythemov) May 6, 2019
Also the face paint was well done: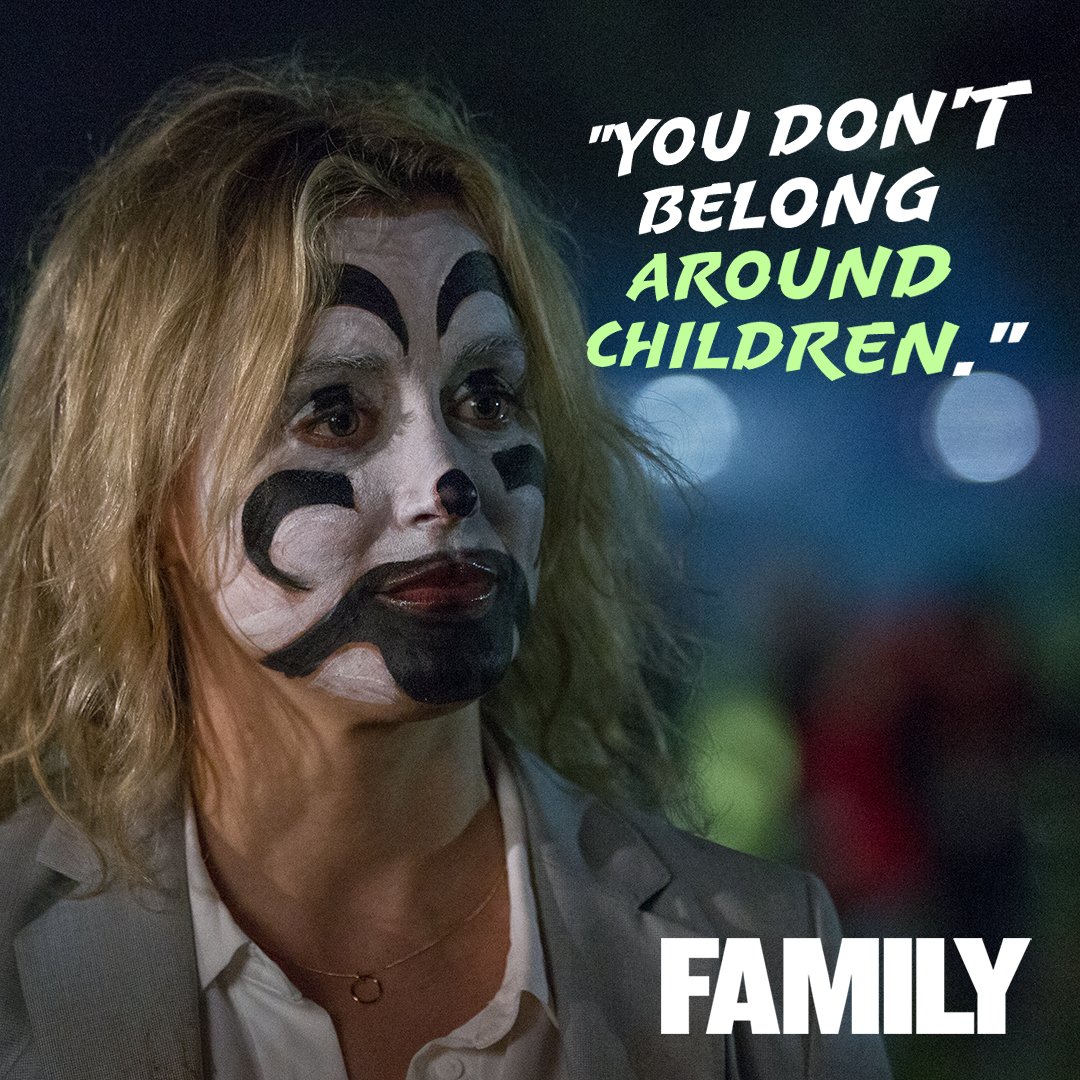 A Tale of Two Side Characters
Sensei Pete (Brian Tyree Henry) is Maddie's karate sensei and he serves as the moral compass of the film. Maddie's parents are forcing her to take a dance class, which is something she has no interest in, so she's been sneaking into Pete's karate class and learning a few moves.
Brian Tyree Henry has these little nuances in his acting that make a minor role something to pay attention to. He reprimanded Kate for being irresponsible while she was babysitting Maddie. You can tell that Sensei Pete cares about his students and wants what is best for her. When Maddie gets in trouble at school, Sensei Pete is her contact for emergencies which lets us know what she thinks of him.
On the other hand, Kate McKinnon would've benefited by dialing it down a lot and playing her character instead of playing Kate McKinnon. Jill (Kate McKinnon) is Maddie's neighbor and she is pretty much the housing authority of the neighborhood and constantly tells Kate to put the garage door down, so none of the neighborhood kids get crushed to death by it. It's not a weird request, maybe, somewhat, overdramatic but it's used as a joke in the film. The payoff is funny, but McKinnon adlibs and oversells it to the point where it comes off as too cartoonish. In the film, McKinnon is funny, but at times she would overdo her shtick. If Steinel could've reeled her  in a bit with more direction than her performance would've been more enjoyable.
Final Thoughts
It is not everyday that we get to see a Juggalo approved film hit the big screen, which helps make Family something different. Taylor Schilling proves she's not just Orange is the New Black, and this film allowed her to show off her comedic chops. Bryn Vale held her own when paired with Schilling and both of them made their characters believable. Add the role of Sensei Pete to Brian Tyree Henry's impressive range of playing different character types and in time he'll have an Oscar added to his name. Laura Steinel's directorial debut is worth going to see on the big screen if you're looking to see something unique. If this one is playing near you, join the family or get left out.
Fin
RATING
[Fresh Horchata]
[Fuego]
[Bueno]
[así así]
[Basura]
[All Mames Wey]
Family was released in theaters on March 22, 2019.