"The truth has many faces," is the tagline for director Julius Onah's latest drama, Luce. The psychological thriller follows a gifted student named Luce who has the weight of the world on his shoulders as he tries to live up to everyone's expectations of him. The film stars Kelvin Harrison Jr., Octavia Spencer, Naomi Watts and Tim Roth. Spoilers after the trailer.
Four Sides of a Story
Right after the opening credits, this film doesn't waste any time establishing its main characters and creating an uncomfortable tone that'll be found throughout its runtime. Luce Edgar (Kelvin Harrison Jr.) was adopted at 7 years-old from war-torn Eritrea by  Amy (Naomi Watts) and Peter Edgar (Tim Roth).
Luce has rehabilitated from all the anger and violence that he witnessed while living in Eritrea and now he's an outstanding high school student, well-liked by everyone and the valedictorian of his class. He attends a majority white school and the film does a fantastic job at developing his character without it being exposition dump.
Tokenism is an underlying message early on in the film because Luce is presented as "one of the good ones." It was not until after Luce's parents met his teacher, Ms. Harriet Wilson, that the word tokenism was mentioned in the film. She's worried about Luce because of a paper that he wrote which had underlying themes of domestic terrorism; however the paper, as assigned, was written in the voice of Frantz Fanon.
Being a black woman in a white space she wants what's best for Luce because she recognizes his potential and wants him to succeed, which is something that is relatable for black educators in America. Depending on how you feel about the situation, Ms. Wilson violates Luce's privacy, or ensures school safety by searching Luce's locker and alerting his parents of the contents behind his back. This is pulled off well-enough that the viewer has to decide whose side they are on from the onset.
Onah's direction and storytelling goes to the next level when examining the relationship between Amy and Peter Edgar, and how adopting Luce has changed their lives. There aren't many movies that reach the big screen that tackle the issues face when black children are adopted by white parents and attend white spaces in modern day America. Watching how Peter and Amy view their son versus what each wanted out of a child being opposite was intriguing to watch.
Peter loves his son but if he had to do it all over again he would've wanted it to be easier or raised his own biological child. Whereas Amy loves Luce to death, and would not change anything because she's worked so hard to get him to where he is. At first she seemed as if she was going the route of stereotypical movie mom, who is too naive to do what is best for her child, which usually ends in her demise, but refreshingly, Onah did not write her character that way.
What makes these characters work is that you can understand where each one is coming from and their views on the situation. Peter and Amy may have had a disagreement about what they thought they were getting into after adopting Luce but at the end of the day they loved him as if he were their own flesh and blood. When Ms. Wilson tries to drive a wedge between the family, the Edgars remain a unit and do not let her tactics phase them. This is also helped by the fact that Luce is charming and manipulative enough where it is tough to second guess his motives.
Harrison's performance as Luce was among the best performances of the year. The character is written so well that it's hard for the audience to know if he is every bit of danger that Ms. Wilson says he is or does he live up to the expectations of his peers and family. You can see the nuances of the inner struggle throughout Harrison's performance and the film's third act is where things come to a satisfying close.
Final Thoughts
Luce is a psychological thriller that delivers on its "truth has many faces," tagline in an uncomfortable, yet thought provoking way. It's a powerful film that makes its viewers question whose side they agree with. It's a film that makes viewers understand how societal pressures affect decision making from various vantage points that aren't often represented in film. The fact that the screenplay for Luce was developed during President Obama's presidency and is still topical nearly four years later is nothing to scoff at. Onah effortlessly weaves a study into how race, class and identity affect us without making the film feel preachy.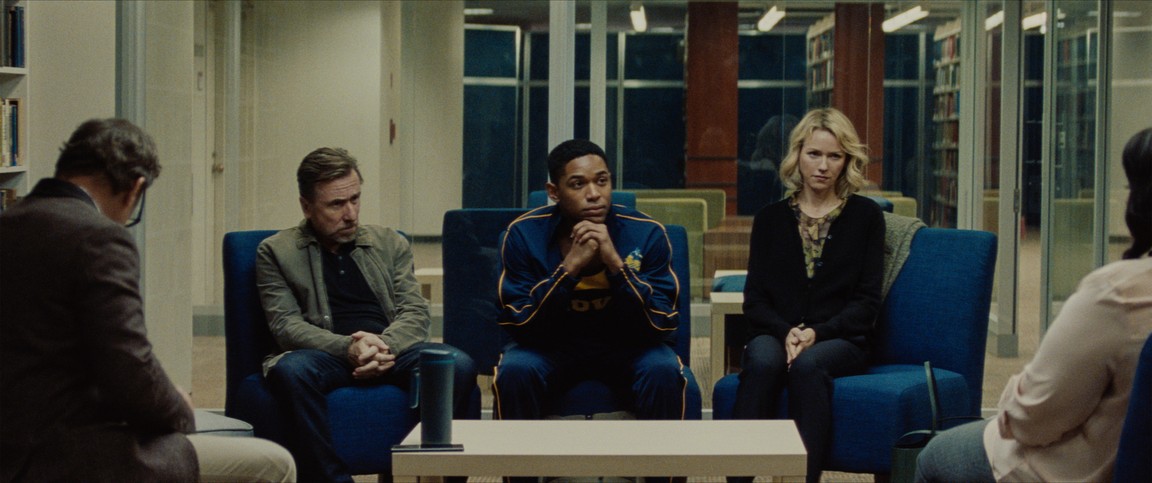 Performance wise, Luce is filled with superb performances throughout thanks to its veteran cast, including Octavia Spencer, Tim Roth and Naomi Harris, while Kelvin Harrison Jr. has a breakout performance as the titular character. During awards season, his performance should come up when it's time to announce the nominees for Best Actor.  Luce is an insightful and engaging look into an often overlooked part of America, but if it's playing near you then I highly recommend checking this one out.
Fin.
RATING
[Fresh Horchata]
[Fuego]
[Bueno]
[así así]
[Basura]
[All Mames Wey]
Luce was released in theaters August 2, 2019. 
Like. Share. Discuss: @PeliculasCosas